Conservatory Designs
One thing that you can choose to add into your home when doing a renovation is a conservatory. However, there are many conservatory designs to choose from and deciding which one to actually go for can be rather perplexing.
So we have a simple list that Ruth Rogers compiled of the more popular conservatory designs: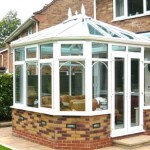 Victorian Five-Sided:
This classic shape is considered by many as the ideal conservatory and it was founded on the 17th and 18th century orangeries that were utilized then to grow fruits and plants. The main selling point of the Victorian five-sided is its multifaceted views. This conservatory design makes for an ideal addition to any home with lots of space for folks who prefer a traditional style garden extension. Homeowners often fancy adding wooden blinds and French doors to produce that relaxed and archetypical feel.
P-Shaped Victorian:
This particular design is very classical and it gives you a great deal of conservatory space (well that is if you actually have the space). This design is actually founded on two separate designs and has the contemporary rectangular design (the vertical line of the letter "P") affixed towards the Victorian facet bay window (the curved part of the letter "P").
Edwardian Conservatories:
These traditional conservatories are an excellent design for bigger family houses and appear spectacular if added to either old or modern homes. Generally rectangular or square in terms of shape, Edwardian conservatories are perfect for maximizing the available floor space, which is actually the top priority of lot of homeowners. Edwardian conservatories have several different styles including the hipped back and the gable fronted, just to name some.
Lean-To Conservatories:
The contemporary lean-to conservatory is actually one among the most well-admired and preferred conservatory designs. This uncomplicated design comprise of three exterior facing walls, with two of which affixed towards the house through the roof. This creates an extension with optimized floor space, which is a style that goes well with most home styles as well as allows for a good amount of natural light inside the house.
Gull Wing:
This is actually a variation of the lean-to conservatory; however, the two sides are facing away the building that they are adjoined to; thus creating a rather distinctive shape. This particular conservatory design is slightly larger as compared to the typical lean-to conservatory and hence fits great with a standard-scale or large-scale garden.
There are so many conservatory designs and these are just a handful of them. Never hesitate to confer with an expert design consultant since this is an excellent way in order to acquire an idea regarding what would be excellent for your abode.
You can always take advantage of a free consultation at Choices Windows.